BLOG 10 (September 2021) FORTHCOMING ARTISTS OPEN HOUSE AT HOME – (27-28 November; 4-5 & 11-12 December 2021)

UNIQUE OPEN HOUSE – CELEBRATING WILDLIFE – PORTRAYING NATURE IN ART – SUPPORTING CONSERVATION

A CHRISTMAS EXHIBITION to enjoy the BEAUTY of ENDANGERED NATURE and to have the opportunity of contributing to its CONSERVATION
Ceramics, Paintings, Photographs, Mixed Media
CONTRIBUTING TO WORLDWIDE CHARITIES
International Artists including Sophie Green + Jack Durling + Xi Zhinong + Susanna Brown + Filipe Brown + Allison Murphy + Serena Sussex + Aysenil Senkul + Michael Folkard + James Foley

PLEASE PUT THE DATES IN YOUR DIARY & MAKE SURE THAT YOU COME TO SEE THIS EXCEPTIONAL EXHIBITION
BLOG 9 (May 2021) ARTISTS OPEN HOUSE AT THE CHURCH OF THE GOOD SHEPHERD
11am – 5pm Weekends 29/30 May, 5/6 June, 12/13 June, 19/20 June
272 Dyke Road, BN1 5AE on the Seven Dials AOH Trail
BLOG 8 (November 2020 & Updated December 2020) THE TWELVE STATIONS OF THE CRIB and ARTISTS OPEN HOUSE AT THE GRANGE, ROTTINGDEAN

BLOG 7 – (October 2020) THE TWELVE STATIONS OF THE CRIB
Fr Martin Morgan, formerly vicar of Rottingdean but now an associate priest at Brighton's Chapel Royal (and a good friend) and I have been working together on a new project called THE TWELVE STATIONS OF THE CRIB.
The familiar Stations of the Cross tell the Easter Story culminating in the Cross and the Resurrection of Jesus.
Martin thought that it would be a good idea to prepare a similar book of meditations to be used during Advent, which tells the story of how God got the world ready for Jesus to be born on Christmas Day.
The Stations of the Crib deal with the important and wonderful story of 'incarnation' – how it was always God's Creation Plan to allow us to get to know him but living with us as a while – as the Christ-child born on the first Christmas Day.
I have created 12 tiles to illustrate each chapter: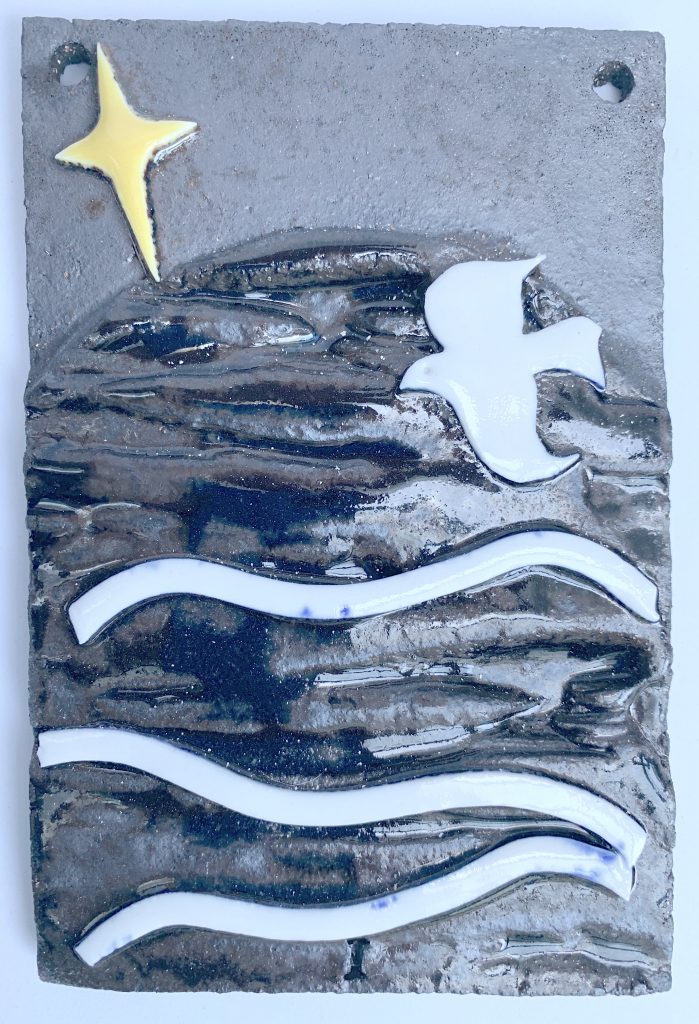 BLOG 6 – (October 2020) THE POTTERS BAR TEAM OF ARTISTS WILL BE PROVIDING THE ART AND CRAFT WORKS FOR THE CHRISTMAS FAIR AT THE ROTTINGDEAN GRANGE GALLERY AS PART OF BRIGHTON ARTISTS OPEN HOUSES 2020.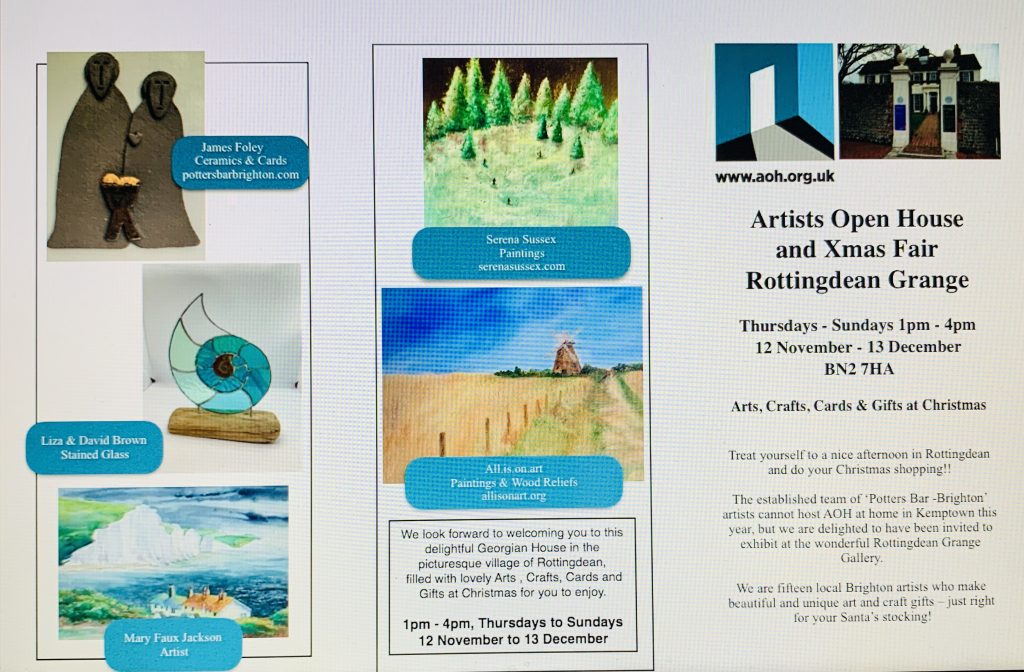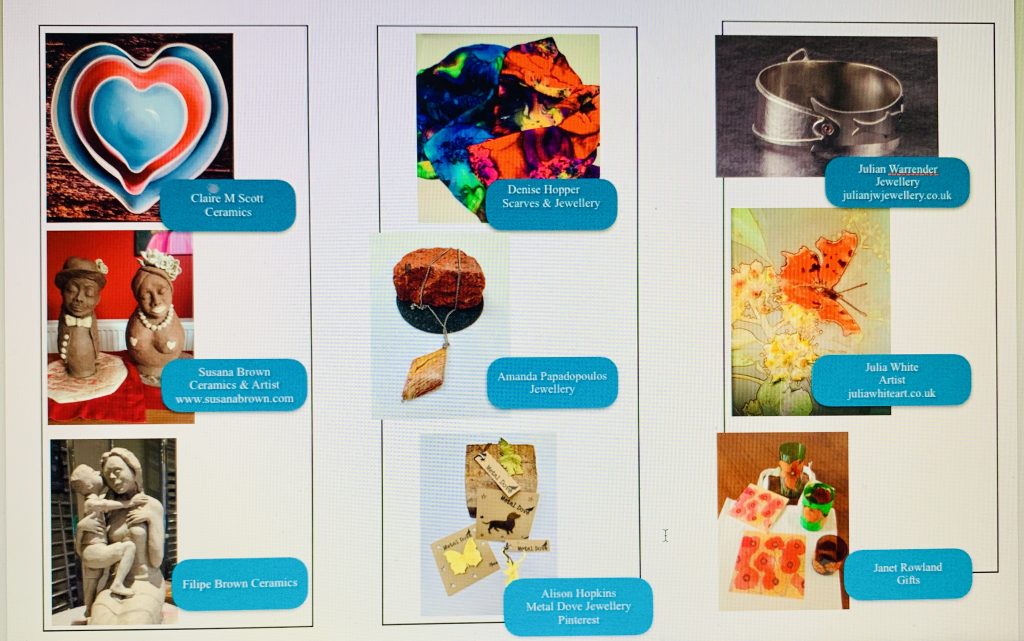 BLOG 5 – (August 2020) COVID PUT PAID TO THE MAY ARTISTS OPEN HOUSE AND TO THE BRIGHTON FESTIVAL!
We were sad not to open but now we are beginning to look ahead to what might be possible later in the year.
The Potters Bar Brighton team of artists decided that it would not be prudent to enrol with the city's AOH in November and December. It wouldn't be a good idea for me to have visitors to the flat, although I have thoroughly enjoyed meeting lots of lovely people in the past.
However, some encouraging news this summer is that the PottersBarBrighton team of artists has been invited to display their Arts and Crafts at the GRANGE GALLERY in ROTTINGDEAN from 9 November to 6 December 2020. This welcome invitation will allow us to showcase Christmas Gifts and other works of Art for sale without the worry of social distancing in someone's home. More details in the next blog.
BLOG 4 – MAY 2020 BRIGHTON ARTISTS OPEN HOUSE WEEKENDS – 2/3 MAY, 9/10 MAY, 16/17 MAY, 23/24 MAY
This won't be just any Artists' Open House.
This will be an M&S (Marvellous & Stunning) Artists' Open House,
set in a luxurious Georgian apartment
with a secret tropical garden overlooking the Kemptown beach where twelve talented artists will be waiting to welcome you!
BLOG 3 – NOVEMBER 2019 BRIGHTON CHRISTMAS ARTISTS OPEN HOUSE WEEKENDS FROM 23 NOVEMBER – 8 DECEMBER, 11am – 5pm

The 2019 Christmas Open House was a great success with lots of happy visitors and customers and lots of super Christmas presents bought. All the artists sold well and I did a great trade in ceramic nativity sets. There was a brilliant atmosphere at the weekend and midweek events.

'On the 12th Day of Christmas Pottersbarbrighton gave to me, Four Painters Painting, Three Stitchers Stitching, Three Jewellers Jewelling, Two Potters Potting, One Modeller Modelling – but no partridge in a pear tree!
Artists included: James Foley, Serena Sussex, Allison Murphy, Aysenil Senkul, David Lilly, Mark Newman, Alison Hopkins, David Bennett, Carole Walker, Faye Hughes, Denise Hopper, Mary Faux Jackson, Michael Folkard.
My ceramic work for the exhibition included a wide range of Nativity Sets and Christmas Art plus bowls, candles and other gifts.
BLOG 2 – AUGUST 2019
I exhibited at the Kemptown Arts Association Summer Exhibition in the Grey Walls Gallery in Brighton Marina in from 15 – 29 August 2019.
BLOG 1 – MAY 2019 We were open for the first time for four weekends in May 2019 as part of the Kemptown Trail in the Brighton Artists Open Houses.
There were three potters, three painters and a fabric artist. (Details on the About page).

It was great fun hosting this Open House. I worked in the studio, showing visitors how two very different types of pottery are made and letting them see the little electric kiln.

I was working in hand built porcelain making vases based on the Sarracenia fly catcher plant growing in the garden. They were mounted on bits of driftwood collected from the beach over the road after winter storms. (Pictures in the Gallery).

And I showed visitors how I used a piece of driftwood pine bark to create interesting patterns on volcanic black stoneware to make planters and wall sconces (Pictures in the Gallery).

I am a gardener as well as a potter and there's no doubt that the visitors enjoyed my 'exotic sub-tropical garden' – nearly everyone called it a hidden gem! People found it interesting to discover what lies behind the wonderful Kemptown Georgian Houses. (Pictures in the Gallery).

In fact, I take much of my inspiration from the garden and from the seashore over the road. And Nature was a common theme among all of the artists exhibiting in PottersBarBrighton.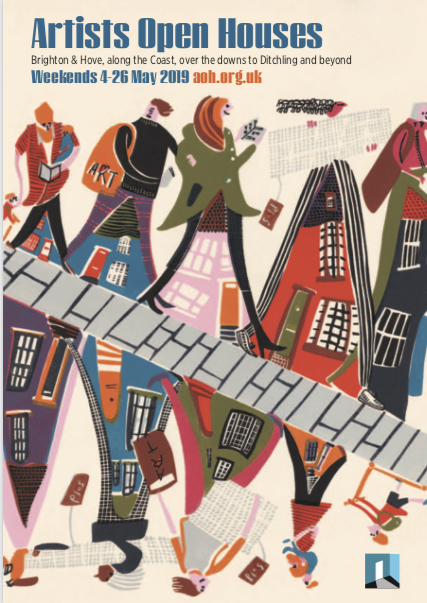 We had about a thousand visitors over the four weekends and we were one of eleven houses out of the total of two hundred to be Long-listed as Best House. We plan to be open for the Christmas Open Houses (23 & 24 November, 30 November & 1 December and 7 & 8 December). Do come! And we hope to do the same next May. Look out for more blogs on this page with updates.